Good news from the R&D department of Shenzhen Qipu Optoelectronics Co., Ltd.: The indoor P2.5 six-high LED display was successfully developed, and passed the performance test, and officially met with the world. The launch of this new product marks that Qipu Optoelectronics' high-end top LED display product development capability has crossed a new height and set a new benchmark in the field of indoor LED HD.
According to Yang Jianbing, director of R&D of Qipu Optoelectronics, P2.5 is one of the highest clear models of indoor full-color LED display, with 160,000 pixels per square meter, which is 5 times higher than the current high-definition P6. The P2.5 six-high LED display has a module size of 160mm*160mm and a cabinet size of 320mm*320mm. It uses SMD2020 LEDs.
Qipu Optoelectronics recently launched the world's leading six-high LED display series. The so-called six high means: high precision: constant current 0.5ma can work; high gray level: true 20bit image position; high refresh: 32 sweeps 2400hz, 16 sweeps 4800hz, 8 sweeps 9600hz, 4 sweeps 19200hz; high image Frame: 120hz image frame working mode; high reliability: antistatic 6kv; high power saving: 66% power saving.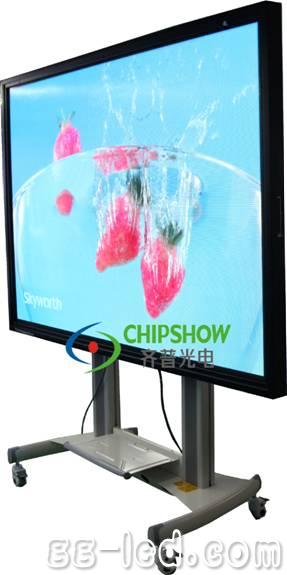 The P2.5 six-high LED display has the following main features:
1. Gray scale generation, irrespective of OE, can achieve maximum brightness display, 1-3ma, meet indoor display requirements.
2. Monochrome 64KK gray scale display, white balance correction and linear gray scale adjustment.
3, linear gray scale adjustment, low-light super-fine display under small current.
4, current and color temperature adjustment, cancel the external white balance resistance, to achieve different batch unit plate replacement.
5, frame synchronization features, adapt to the broadcast and rental screen applications.
6, high-definition display under low brightness, suitable for theater and indoor display use, healthy LED display design.
7, 3D HPP LINK, 3D display design.
8. Input/output separation and matching structure, increase bandwidth, cancel "incoming only" and "unit" control modes.
High-density ultra-high-definition LED display has always been the field of continuous exploration by domestic and foreign giant LED display companies. Qipu Optoelectronics P2.5 six high LED display put on the market, will certainly set off a fierce impact in the high-end LED display application market. As a national high-tech enterprise, Qipu Optoelectronics will continue to push forward the development of LED display application technology and let LEDs enjoy the high-definition charm in more fields.
(This article is a copy of Qipu Optoelectronics)

High Voltage Capacitor,Igh Voltage Variable Capacitor,High Voltage Electrolytic Capacitors,High Voltage Capacitor Leakage Tester
Yangzhou IdealTek Electronics Co., Ltd. , https://www.idealtekpower.com