This high-precision, space-saving device uses FiltronTM technology in a small 2mm x 2mm x 0.85mm package
This article refers to the address: http://
21 ec. Recently, Vishay Intertechnology, Inc. announced that the Optoelectronics Division has released a new high-precision digital ambient light sensor, the VEML6030, for consumer and industrial applications. The Vishay Semiconductors VEML6030 incorporates high-sensitivity photodiodes, low-noise amplifiers, and 16-bit ADCs into a small, transparent surface mount package of 2mm x 2mm x 0.85mm. The sensor uses Filtron technology with interrupt capability and supports the I 2 C bus to simplify operation.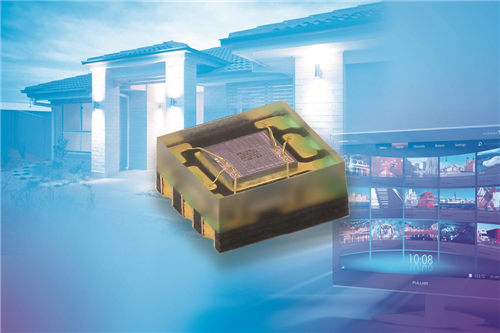 The device launched today can operate in the temperature range of -25 ° C ~ +85 ° C, can be used for dimming the display and keyboard, optical switches for handheld devices such as smart phones, GPS, laptops and PCs, LCD TVs, Digital photo frames and digital cameras, metering for industrial and medical applications. The VEML6030 can be used in intelligent home lighting control systems for accurate and timely analysis of ambient lighting, enabling precise control operations even in the event of rapid movements such as storms. The device detects natural light at sunset and detects the rising sun in the morning to control the level of light.
Using Filtron technology, the sensor achieves ambient light spectral sensitivity close to the human eye, using O-TrimTM technology to achieve an output tolerance of less than 10%. The device can detect ambient light from 0lx to 167klx with resolutions as low as 0.005lx/ct, and can be operated normally in applications with low visibility (dark) lenses. VEML6030 can suppress stroboscopic noise of 100Hz and 120Hz, and has good temperature compensation stability. The sensor consumes only 2μA in the operating mode and 0.5μA in the off mode.
The VEML6030 has a supply voltage from 2.5V to 3.6V and an I 2 C bus voltage from 1.7V to 3.6V. The device is available in a lead-free, 6-pin package that is RoHS and Vishay green and halogen-free.
Samples of the new ambient light sensors are available now, with volume production scheduled for the second quarter of 2016, with lead times of 12 weeks for larger orders.
Our E27 connector T-Bulb Light is made of pure PC material . T-bulbs use non-isolated driver and the voltage is 170-300V. The T-shaped shell and turnable axis are the unique features of T-bulbs. It has 10 watt power and its CRI is more 80, luminous efficiency is 80LM/W. The color temperatures include cool white, warm white and natural white. This type of bulbs light is in elegant shape, easy installation and good quality. These T-bulb lamps have a two-year warranty, mainly used in office, bedroom, supermarket and so on.
T-Bulb Shaped Light,E27 Connector Led Lamp,Daylight Bulbs Light ,T Series Light Bulbs
Jiangmen Lika Lighting Electrical Appliances Co., Ltd , https://www.lika-led.com