Just after the eleven-and-a-a-long day holiday that has just passed, I believe many people feel that they are still not satisfied. After all, this is the last seven days of the 2016 holiday. The next seven-day holiday will have to wait until the 2017 Spring Festival holiday. During the Golden Week of the Eleventh Golden Week, both online shopping malls and offline shopping malls have carried out large-scale promotional activities, especially televisions that occupy a very important position in home appliances.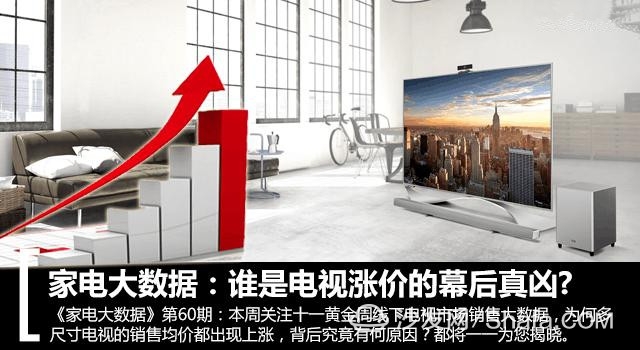 Recently, the big data researcher Ovid Cloud Network (AVC) released the national offline offline TV sales promotion report during the Golden Week of the 11th period, which revealed a lot of big data worth noting, including which size TVs are most favored by consumers, 4K. Does UHDTV become the product of choice for users? In addition, compared to the same period of last year, TV prices in the 11th promotion season did not fall, which is why? In this week's 60th issue of "Home Appliances Big Data," we've come to focus on some of the hot issues in the recent TV market and see what inspired the big data.
â–  Sales of 6.2 million units during the 11th sales period, sales of 21.6 billion yuan
First of all, let's look at a set of aggregated data. The sales cycle for this year's 11 promotion period is from September 12th, 2016 Mid-Autumn Festival to October 9, 2016, that is, from the 38th week to the 41st week of this year, according to online and offline. According to the aggregated big data, the total omnichannel TV sales in China totaled 6.2 million units, which was a year-on-year decrease of 1.6 percentage points compared to the previous year's promotion period, and was RMB 21.6 billion in sales, which was a decrease of 12.5 percentage points year-on-year.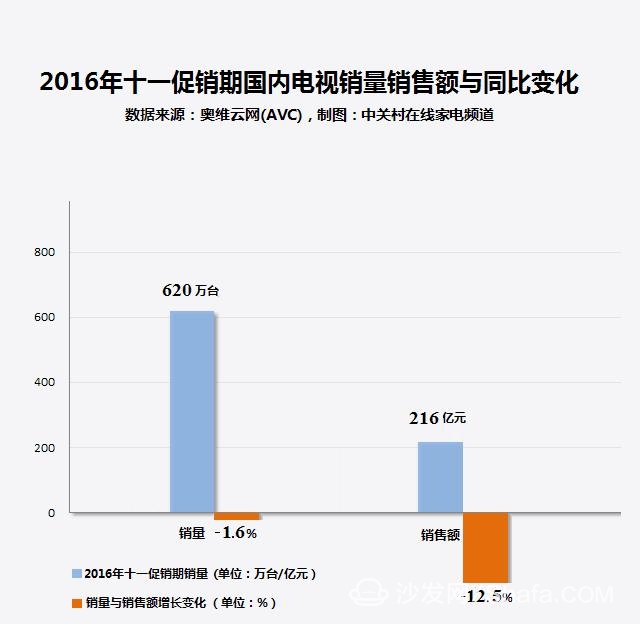 Compared with the 2016 sales season, TV sales and sales have declined
â–  Preferential sales accounted for more than 60% in physical stores
Nowadays, there are many sales channels for television, including traditional large-scale chain stores, supermarkets, department stores, and other emerging e-commerce shopping platforms in recent years. So, can home appliance stores PK online shopping channels? the answer is negative. According to big data, the proportion of traditional channel sales remains unshakeable, accounting for 66% of total sales, and only 34% of online channels. This also means that currently more than 60% of consumers choose offline channels to buy TV.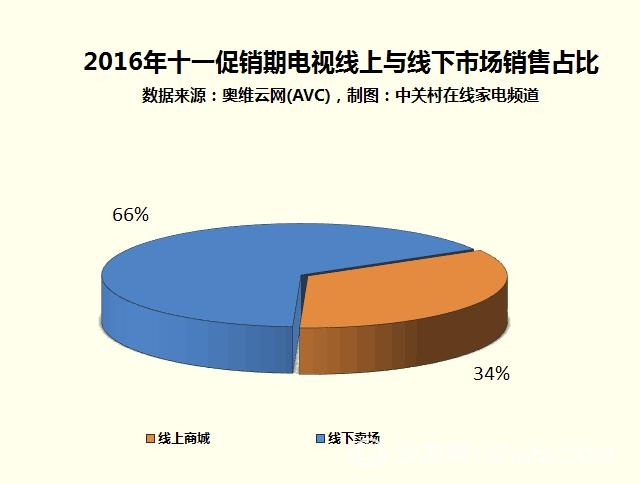 The offline store is still the biggest winner during the 11 promotion period, accounting for 66%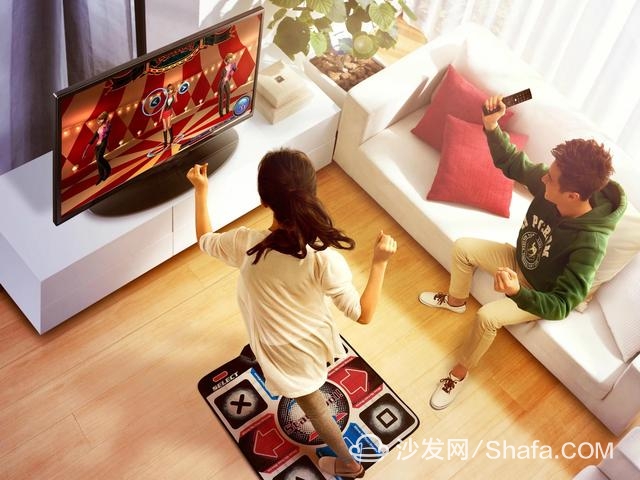 The smart TV's somatosensory games and other functions still need to be experienced in person. This is not what e-commerce can do.
In fact, it is not difficult to understand such situations. On the one hand, some e-commerce shopping sites do not have high coverage for third- and fourth-tier cities, and some areas are often unable to provide door-to-door service. Another reason is that the vast majority of TVs sold today are smart TVs, and some new features, such as somatosensory games, voice control, and online video platforms, etc., consumers still want to experience it for themselves and then consider Whether to buy. The offline store has undoubtedly become the choice of this type of user.
â–  Who is behind the scenes as TV prices rise?
For LCD TVs, many consumers are more concerned about prices. From a small screen 32-inch TV with a thousand yuan or so to a 65-inch large-screen TV with a 10,000 yuan, there is a lot of room for consumers to choose. It is worth noting that during the 201611 promotion season, compared to the past May promotion season, LCD TVs of many sizes have actually experienced price increases. This is contrary to the previous practice of lowering LCD TV prices.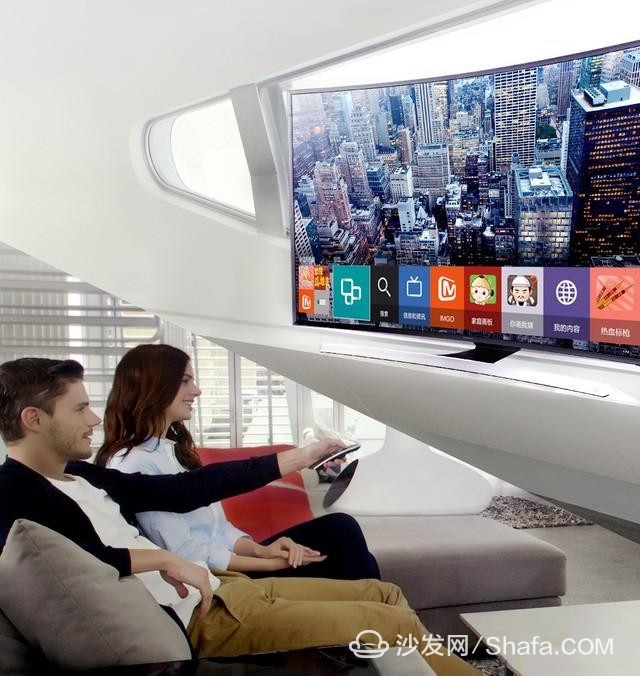 Why TV prices rebounded sharply compared to May 1st sales season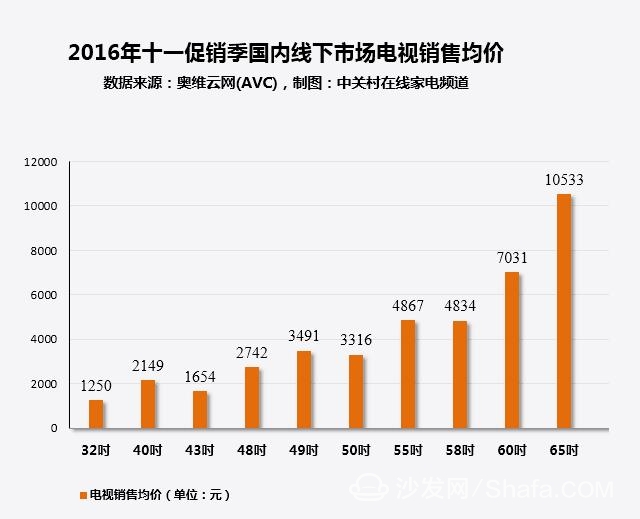 11 Golden Week Promotion Period Offline Market TV Sales Average Price
Let's look at a group of big data. According to big data, the average selling price of 32-inch TVs is 1,250 yuan. Compared with May promotion season, the price is up 15.8%. With 40-inch TVs, the average selling price is 2,149 yuan, which is a year-on-year increase of 2.5. %, 42-inch TV sales average price of 1654 yuan, down 1.0%, 43-inch TV sales price of 2742 yuan, up 4.5% year-on-year. 48-inch TV sales price of 2,817 yuan, a year-on-year decrease of 2.0%. The average price of 49-inch TVs was 3,491 yuan, up 10.9% year-on-year. The average selling price of 50-inch TVs was 3,316 yuan, a year-on-year decrease of 6.5%. The average selling price of 55-inch TVs was 4,877 yuan, up 3.8% year-on-year. 58-inch TV, the average selling price of 4834 yuan, a year-on-year decrease of 5.9%. The average selling price of 60-inch TVs was 7031 yuan, a year-on-year decrease of 0.7%. The average price of 65-inch TVs was 10,533 yuan, up 7.5% year-on-year.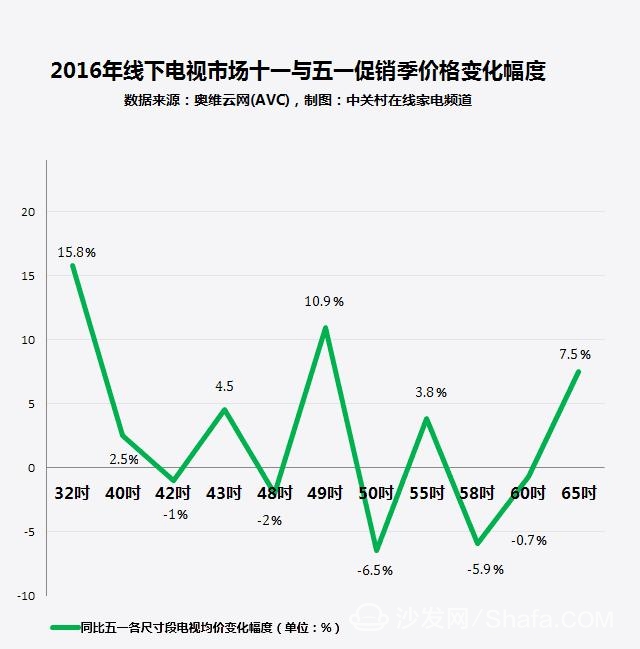 32-inch TV rose the most obvious
From this set of data, it can be seen that the most significant increase is 32-inch TV, an increase of up to 15.8%, while 49-inch TV followed by 10.9%, followed by 65-inch TV, a 7.5% increase. In addition, 40-inch, 43-inch, and 55-inch TVs have also seen varying degrees of gain.
â–  The real murderer behind the price increase is actually caused by the panel price increase.
As we all know, the competition in the TV market is very fierce. Internet brands, domestic brands, and joint venture brands have already become white-hot competition. There is plenty of room for consumers to choose. Why, then, do television companies increase their TV prices to make them lose their competitiveness? The answer to the question is production costs. Taking an ordinary LCD TV as an example, the cost of the panel accounts for about 70%-80% of the total TV cost. Therefore, the overall price of the panel has a significant impact on the TV. From the beginning of 2016, there has been a large increase in the price of TV panels in the international market.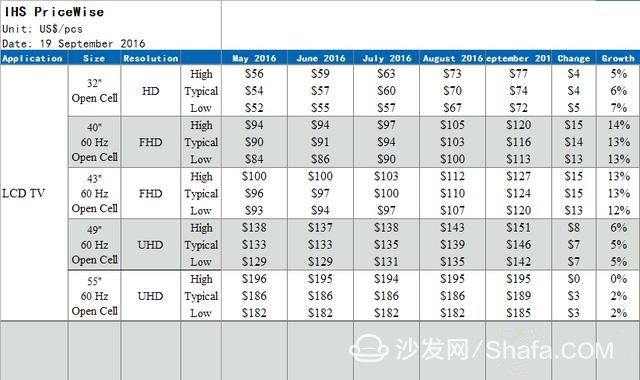 The price of the LCD panel in the international market published by the authoritative market adjustment agency IHS, click to enlarge the picture
According to the latest international market panel price display released by the authoritative market research institution IHS in September this year, taking the 32-inch LCD panel just mentioned as an example, the general specification product has risen from US$54 to US$74, and the increase has reached US$20. The equivalent of RMB is approximately 134 yuan. In addition, the price of the 49-inch 4K ultra-high-definition panel rose from 133 US dollars in May to 146 US dollars, or 13 US dollars. In addition, 40-inch and 43-inch full-HD panels, rose up to a maximum of 15 US dollars.
â–  TV makers say: because of panel prices have no choice but price adjustment
Under normal circumstances, if there is a slight increase in panel prices, TV manufacturers will automatically absorb rising costs through cost control and other methods. This time, panel prices have risen too high, and manufacturers have been unable to bear the pressure caused by rising manufacturing costs, so they have to increase TV sales prices.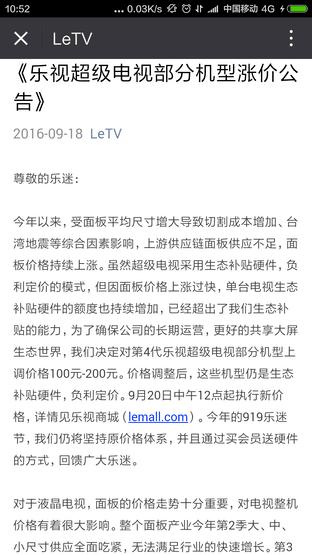 LeTV TV official WeChat public number, released price news, the same reason is the LCD panel prices
TV prices caused by panel price increases have also been confirmed by television manufacturers. Taking the familiar new generation Internet TV music as an example, on September 18th, LeTV's official website WeChat public number announced a set of television price increase notices. In the announcement, the general content is influenced by the price increase of the panel in the international market, which increases the manufacturing cost of the product. Therefore, the price of some size TVs will increase by RMB 100-200. This also confirms that the increase in TV prices was caused by the increase in panel prices.
The author's point of view: TV prices rise, not accidentally inevitable
It can be seen that this time the price of some LCD TVs has risen rather than fallen. This is due to the increase in prices of LCD panels, which are the core components of LCD TVs. It is not a manufacturer's artificial speculation. TV manufacturers cannot afford the cost of price increases and can only be passed on to consumers. This is reflected in the market, which is the increase in TV prices. The future trend of TV prices will depend on the future panel ups and downs. If the prices of LCD panels of all sizes continue to rise in the future, TV prices will continue to rise.
â–  80% increase in popularity of smart TVs
For TV users, there are more and more requirements for TV functions. For example, we hope that TVs have built-in smart systems that can watch videos, play games, or install various software to achieve more functions. Therefore, this requires the Intelligent system support. During the 11th promotion season, the penetration of smart TVs performed well, reaching 87.7%. This means that for every 100 TVs newly sold, there are at least 87 smart TVs.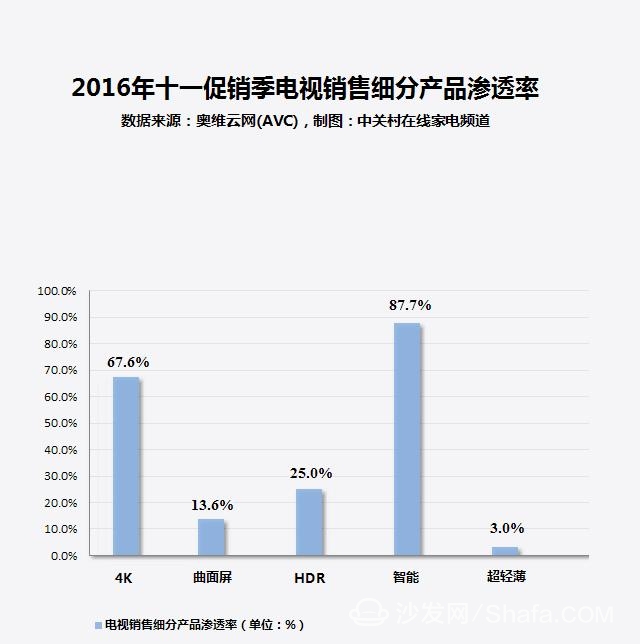 Different TV product penetration
4K ultra-high definition and curved screen, there are still problems to be solved
According to big data, the penetration of curved screen TVs is 13.6%. In other words, the curved screen TV accounted for about 10% of the market share in the TV sales during the 11th promotion season. To a certain extent, consumers' demand for curved screen TVs is still low. On the one hand, curved screen televisions have a relatively high manufacturing cost. In terms of process, they are more complex than ordinary LCD TV panels, and the yield rate is lower than the former. On the other hand, the curved screen TV is not suitable for all scenes, but is suitable for watching movies. It has a better sense of presence and envelopment and is more immersive. If you just watch news programs or enjoy scenic tourism programs, the images will appear distorted and affect the viewing effect.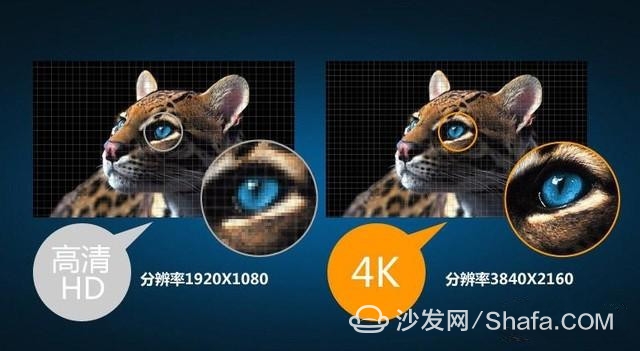 4K ultra-high definition television is good, but it is still difficult to escape the lack of film sources
For 4K TVs, the sales of new 4K ultra high-definition TVs accounted for 67.6% of the new products sold during the 11th period, indicating that 60% of the users purchased 4K TVs during the 11th period. However, the tragedy of the miraculous woman is still being staged in the absence of rice, that is, the source of the 4K film is still severely scarce, and it is still difficult to solve in a short time. Therefore, the purchase of 4K TVs in one step at a time will not fully exploit the ultra-high definition of 4K TVs, and will continue to be used as ordinary 1080P full HD TVs.
Written at the end:
This week's "Home Appliances Big Data", we reviewed the situation of the television market in the offline promotion season of the Golden Week. We can see that the prices of TVs of various sizes have risen because panel prices have risen sharply. Manufacturers cannot digest the increase. The cost will be passed on to consumers. In addition, the offline channel is still a big winner in Golden Week, and its sales ratio is much higher than online stores. What is more noteworthy is that the popularity of smart TVs has reached new heights, reaching 87.7%. The share of non-smart TVs is getting smaller and smaller, and feature-rich smart TVs have become the first choice for consumers. Well, thank you all for watching this week's home appliance big data. See you at the same time next Saturday.
Smart TV/box information can focus on smart TV information network sofa butler (http://), China's influential TV box and smart TV website, providing information, communication, TV boxes, smart TVs, smart TV software, etc. Answering questions.